Filter selection and performance
Atmospheric pollution (particulates in the air) can block air supply systems and result in unsightly contamination within the food process environment, noticeably at ceiling grilles, air extract points and leaks from fabric air distribution systems. Air filters play a critical role in preventing contamination of the air supply system and to protect the food product.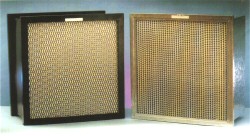 Improved clarity for the selection of air filters has simplified what appears to be a rather complex business. Standards relating to clean rooms, Heating, Ventilation and Air Conditioning (HVAC) and HEPA filters were often mixed with limited understanding of particulate performance in regard to microbiological contamination, and the need to satisfy British, US and EC regulations. The CCFRA document twelve, "Guidelines for Air Quality Control in the Food Industry", of November 1996 is a suitable reference.
All environmental air and many process air systems use disposable HVAC type filters which, in the case of "high care / high risk" applications, should have been designed to ensure they are food safe. Compressed air, some pneumatic conveying and tank ventilation systems make use of circular cartridge filters. Selection is based on operating pressure, process conditions, air volumes, capital and running costs. Filter manufacturing components should not include cardboard, coarse glass mats and untreated metal parts.
Air filters of the type we are discussing are divided into three groups namely primary, secondary and tertiary filters, as illustrated in the following European Normalisation standards:
BS EN779 and BS EN1822 Test Standards
BS EN779 for Primary and Secondary Filters (average performance values)
G1

65%

Arrestance (Primary filters)

G2

65-80%

G3

80-90%

G4

90%->
F5

40-60%

Efficiency (Secondary filters)

F6

60-80%

F7

80-90%

F8

90-95%

F9

95%->
BS EN1822 for Semi-HEPA, HEPA Filters (minimum performance value to MPPS)
H10

85%

High efficiency (Tertiary filters)

H11

95%

H12

99.5%

H13

99.95%

H14
Note that two tests cover all the above filter types, which are graded by either arrestance (G1-G4), efficiency (F5-F9) or by specific particulate penetration. (H10 upwards). A new term MPPS (Most Penetrating Particle Size) is now applied to high efficiency filters. For more information read FEL technical note "Air Filter Testing - The Story So Far".
High pressure, 50-200 mbar disposable cartridges are tested for a specific particle efficiency down to 0.2 micron and below. A liquid challenge test is applied to these filters which offers higher performance values than gas testing using high test pressures.
Air filters installed in a food processing environment are mostly of the barrier type, where dust particles and microorganisms are captured and retained in the filter media matrix. Air filters are available to collect a wide range of particulate sizes, and the following general guide will prove useful:
| | | |
| --- | --- | --- |
| Approaching 100% retention | General filter description | Test grading |
| > 5 micron | Primary filters | G4 - F5 |
| > 2 micron | Secondary filters | F7 |
| > 1 micron | Secondary filters | F9 |
| 0.5 micron | Semi HEPA | H11 |
| 0.3 micron | HEPA filters | H13 upwards |
It is important to note that secondary filters up to and including F9 grade are classified for average efficiency. This means that when the filters are new their efficiency is some 15% lower than the average value. Filters from H10 offer a guarantee that the stated efficiency will be met from the time the filter is installed.
We have discussed filter grading and the size of dust various filters will collect, and we can now consider their application for the food industry. The following chart illustrates the zones where air filtration will be required, and a specific filter quality can be selected to suit these requirements.
Application

Final filtration level

Filter system make-up

Covered product / general office

F5 / F6
and up to F7

Single filter use acceptable if dust loadings are low.
Food Process Hall (General process areas defined as non "high care/high risk")

F7

G4 / F5 pre-filter panels or pocket type followed by F7 rigid cell filter.
"High Care/High Risk" food production

F8 - H11

F5 / F6 pocket filter followed by rigid cell final filter in leakproof framing system located on pressure side of system
High Risk direct product contact

H11

F5 / F6 pocket filter followed by H11 filter in special framework for leakproof confirmation.
Note: A risk assessment in conjunction with the air filtration supplier may prove of benefit to technical personnel.
Air filters of the correct grade must be located within a filter framework designed and installed to ensure total air filtration integrity. Further reading on this subject is available from Filtration Engineering Ltd.